Picture day is next week on the 28th!

It's Wacky Wednesday!! 🤪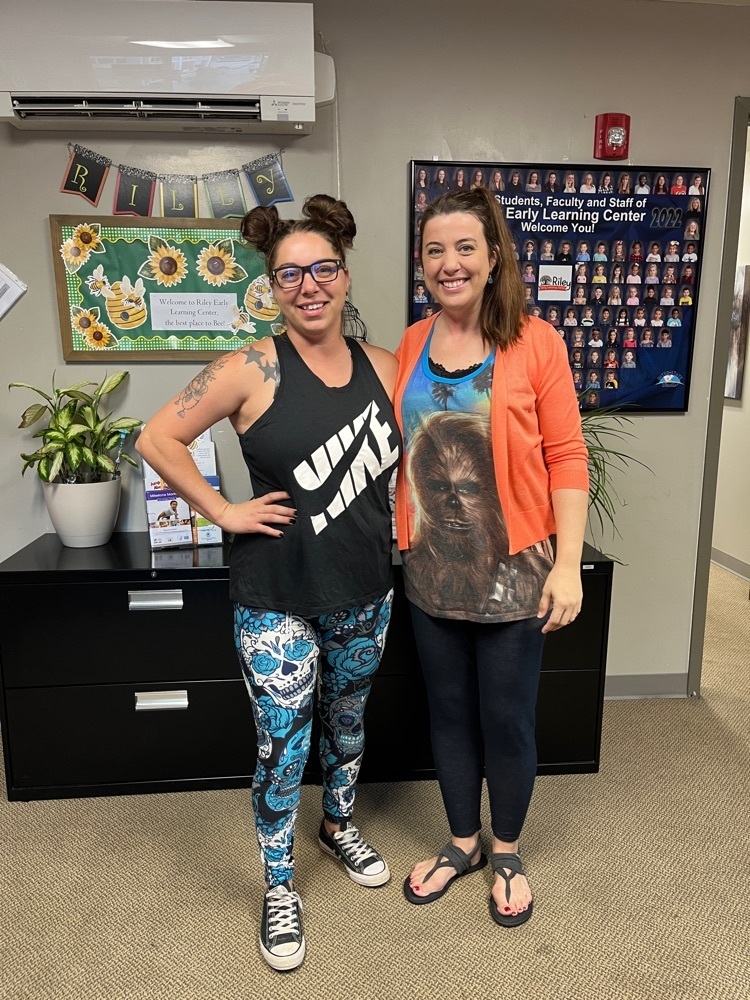 Family Night at Riley ELC, Thursday, Sept. 22nd 5:30-6:30! Parents as Teachers & Riley ELC are hosting this fun event for families of children ages 0-5! We hope to see you Thursday at 5:30pm at Riley ELC!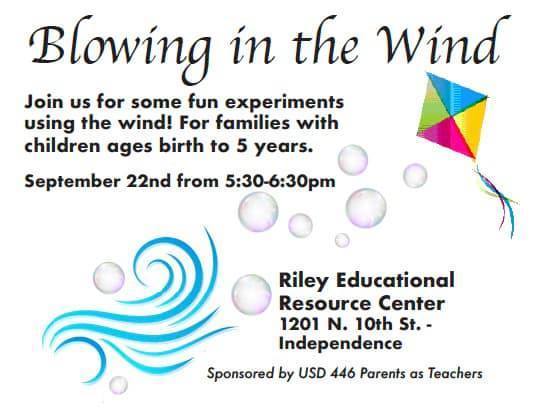 We've had a great start to our school year! Help us celebrate by joining in on our first Spirit Week of the year!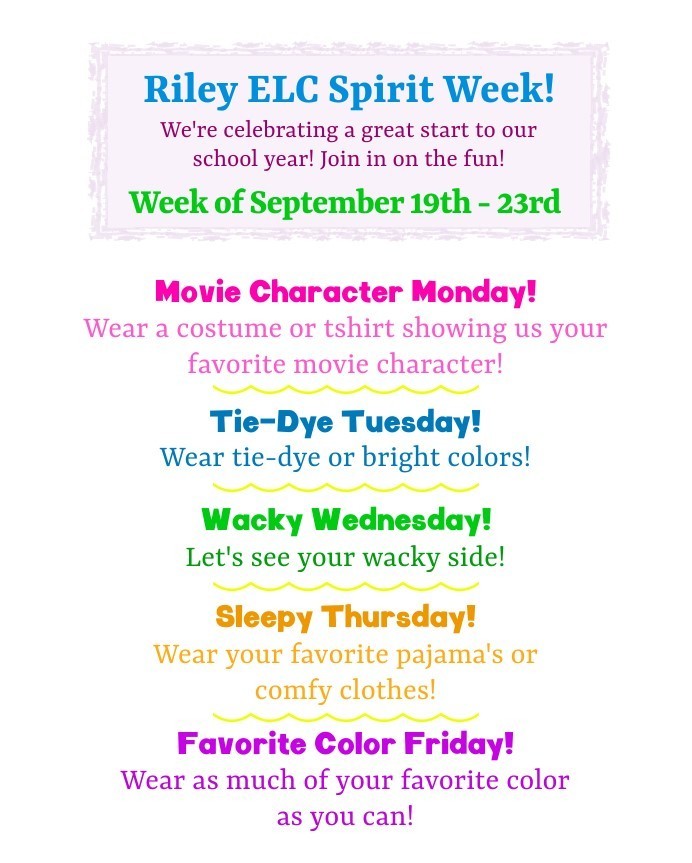 Just a reminder- EARLY DISMISSAL TODAY! We have early dismissal every Wednesday. For our main Riley building the students will be dismissed between 2:45pm-2:55pm. For our Jefferson school PreK students we will dismiss between 2:35-2:45pm. Please make sure your child is picked up within that time frame. If you have any questions please call our main office at 620-332-8998. Thank you!!

Meet the Teacher!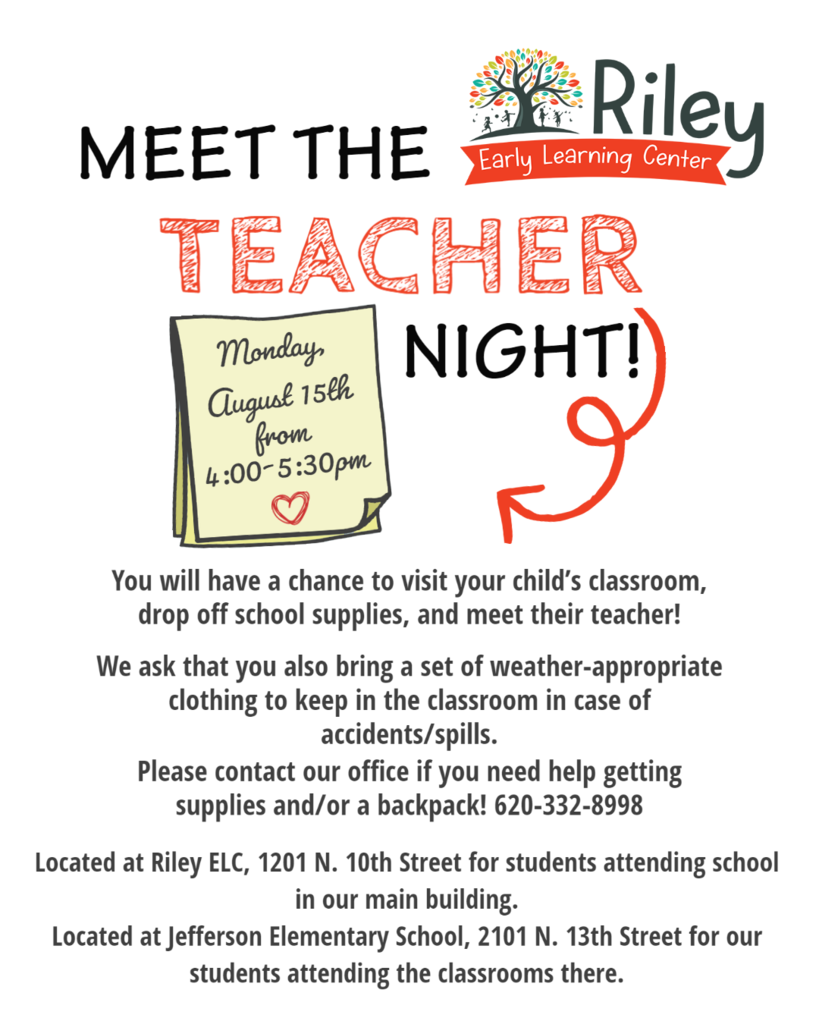 FYI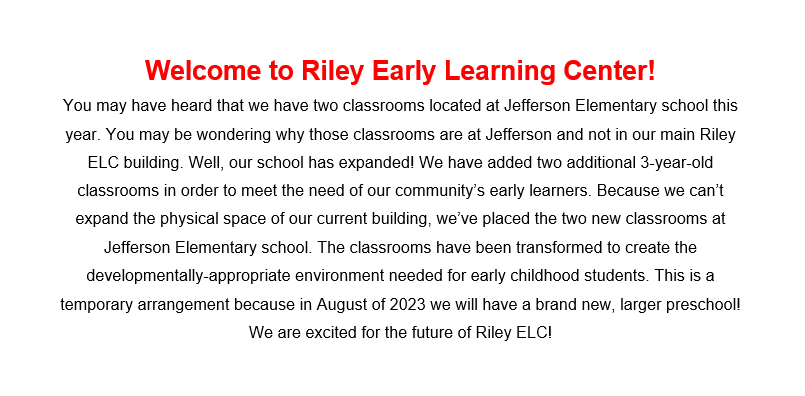 Spread the word! Riley ELC is hiring!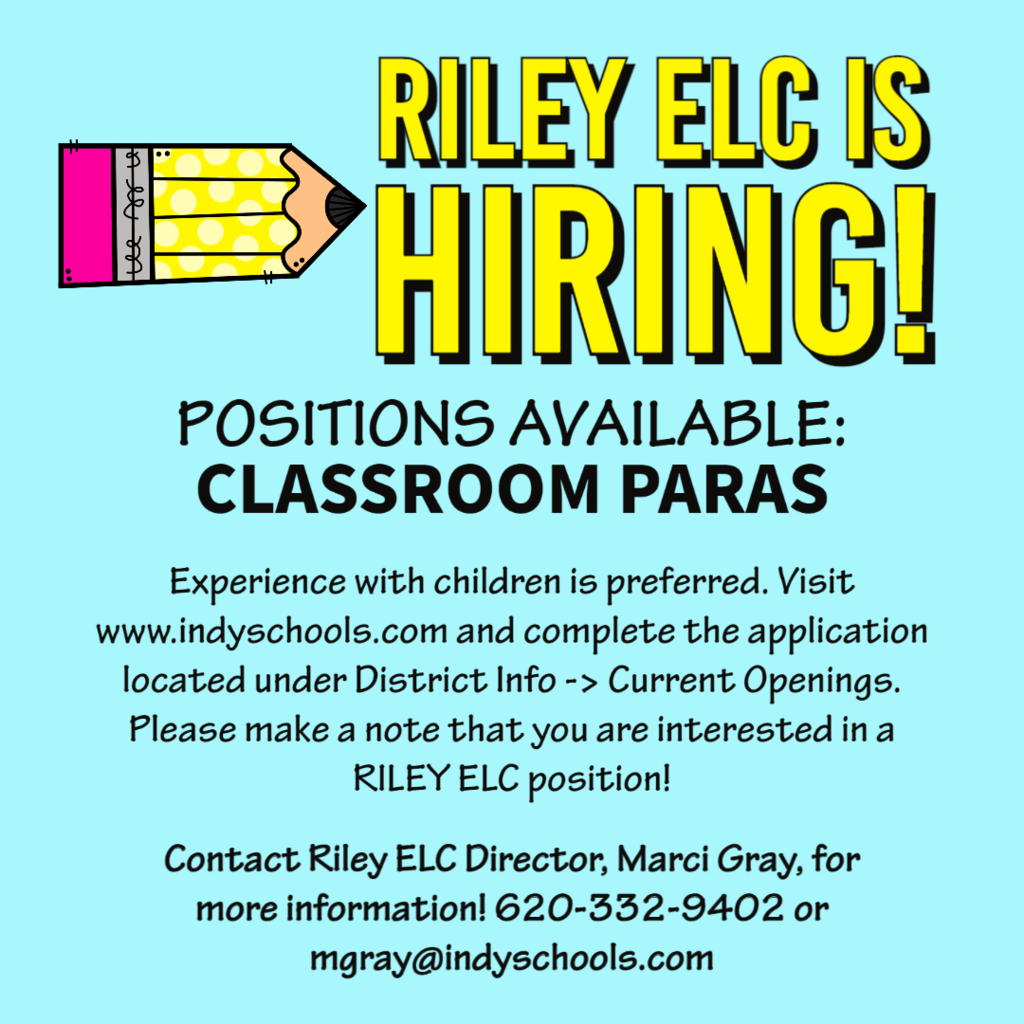 We're excited to start the new year!

Reminder! Our music program is tomorrow during school hours! Each class has an allotted time & it will last no longer than 15-20 minutes. We hope to see you here at Riley tomorrow! (each performance will be recorded)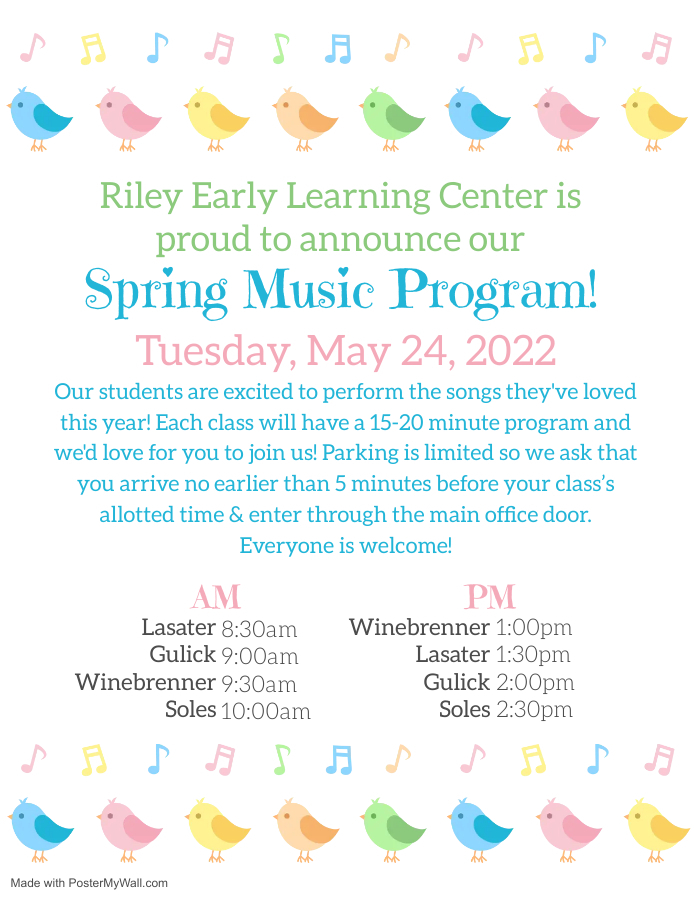 Join us for MESSY PLAY night!! Sponsored by Center of Community Supports (Greenbush). This is for families of children birth to 5yrs old. We can't wait to see you at Riley ELC, 1201 N. 10th, at 5:30pm TONIGHT!

We love having Ms. Marilyn at our school!

We are grateful for our teachers!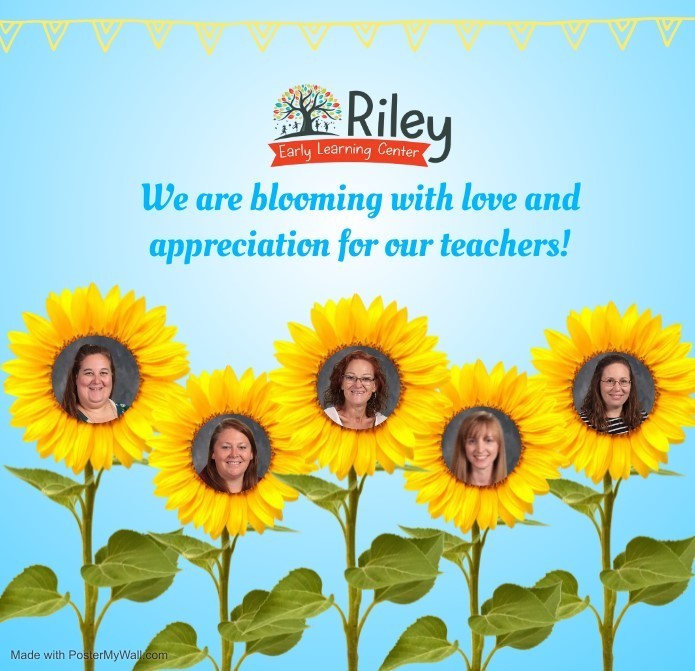 We hope to see you Tuesday!!

Tomorrow is PAJAMA DAY at Riley ELC!

Reminder!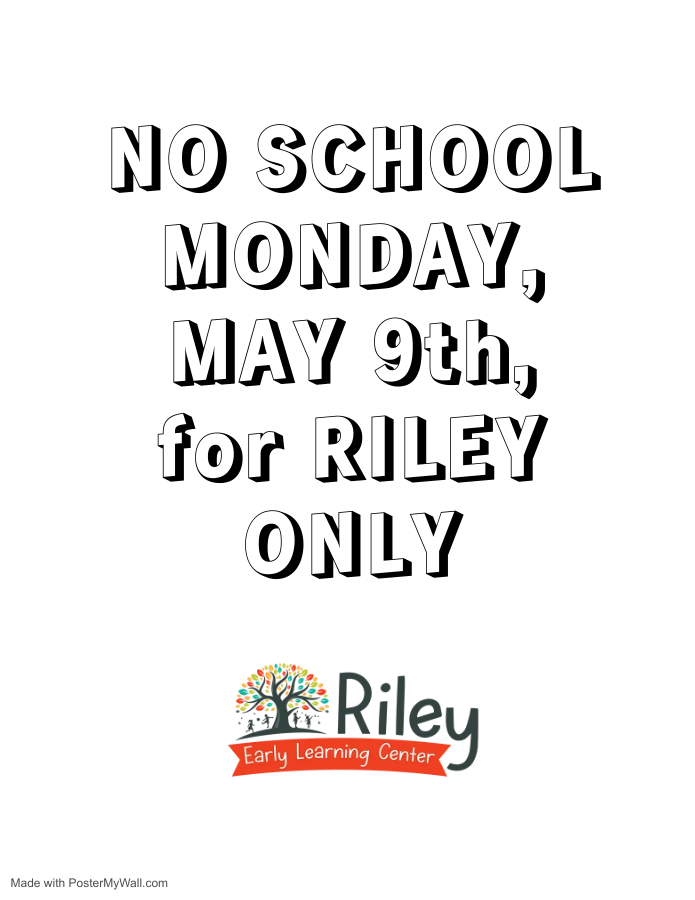 It's Teacher Appreciation Week!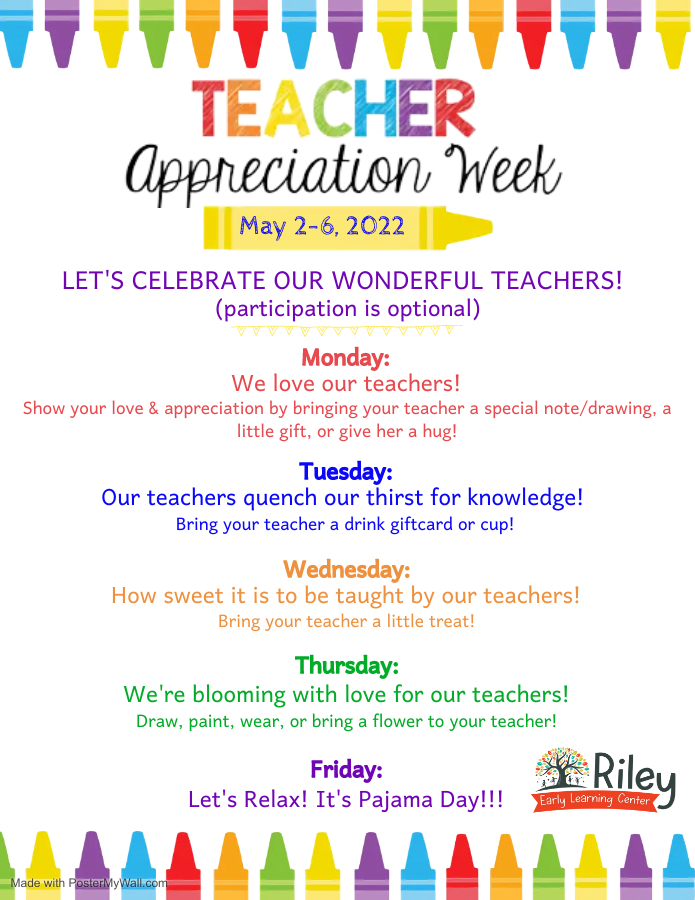 We're grateful to have Ms. Lee at Riley ELC!

We hope to see you at our Spring Program on May 24th! Watch for the flyer being sent home today!

No School Dates for this Week for Riley ELC!